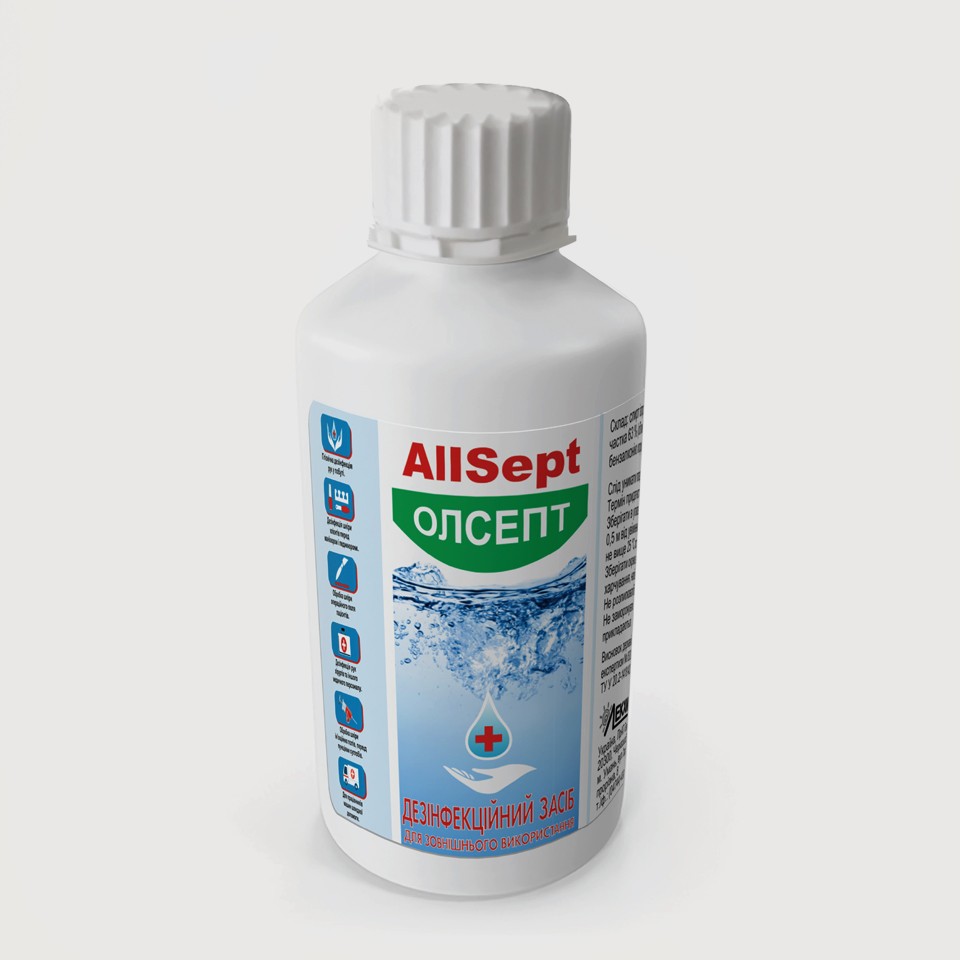 Pharmacotherapeutic group
Pharmaceutical form
Solution for external administration
Therapeutic indications
Spectrum of antimicrobial action. Disinfectant AllSept possesses antimicrobial properties as to the gram-negative and gram-positive bacteria, including causative agents of hospital-acquired infections (S. aureus, E. coli) and tuberculosis pathogens; virucidal action, including against causative agents of hepatitis B and C, HIV, noroviruses, causative influenza, parainfluenza, and other respiratory viral infections, fungicidal properties (as to the Candida and Aspergillus).
Undiluted product is used for:
hygienic hand disinfection of healthcare personnel in medical and preventive treatment facilities of different types, ambulance cars, in the areas of emergency situations;
hand disinfection of surgeons and other healthcare workers that provide surgical treatment in medical and preventive treatment facilities;
preparation of the surgical and injection sites in patients, of elbow bends in donors in healthcare facilities, ambulance cars, in the areas of emergency situations;
preparation of the injection site before joint and organs puncture and before catheter insertion;
disinfection of rubber gloves (chloroprene rubber or latex) on the healthcare workers' hands when in contact with potentially infected material (microbiological, virological, clinical, biochemical and other laboratories), when given an injection, collecting Class B medical waste, others;
hygienic hand disinfection of healthcare personnel in healthcare facilities, sports and recreation centers, preschool and school facilities of different accreditation levels, health resort institutions, social welfare facilities (care homes for elderly people, disabled, etc.), and detention facilities, in the places of outbreak of infectious diseases;
hygienic hand disinfection of workers in cosmetics, pharmaceutical, microbiological, food industries, food service and trade establishments, bank institutions, public utilities services and other establishments whose activities require compliance with hygienic requirements and rules;
hygienic hand disinfection in household use;
when taking care of sick persons, newborn children, elderly people; while taking public transport, in public accommodations, while traveling, other;
hygienic hand disinfection in the emergency situations;
clients' skin disinfection before manicure and pedicure;
hygienic disinfection of hands and other skin cover in other situations when hygienic requirements and rules should be observed;
quick disinfection on small-size surfaces, medical devices of simple configuration in emergency situations.
Pharmaceutical characteristics
Main physicochemical properties
Disinfectant AllSept is ready to use homogeneous clear colorless liquid free from foreign matters with alcoholic odor. pH – 6.6-7.8; specific density – 0.86-0.90.
Storage
The product is stored in manufacturer's hermetically closed packaging, separately from medicinal products, in roofed ventilated warehouses protected from moisture and direct sunlight, at temperature not exceeding 28 ° C, away from open flame and heat, separately from flammable materials and substances. Do not freeze. Do not smoke in the premises where the product is stored.
Manufacturer
PJSC "Technolog".
Location
8, Stara Prorizna st., Uman 20300 Cherkasy region, Ukraine.