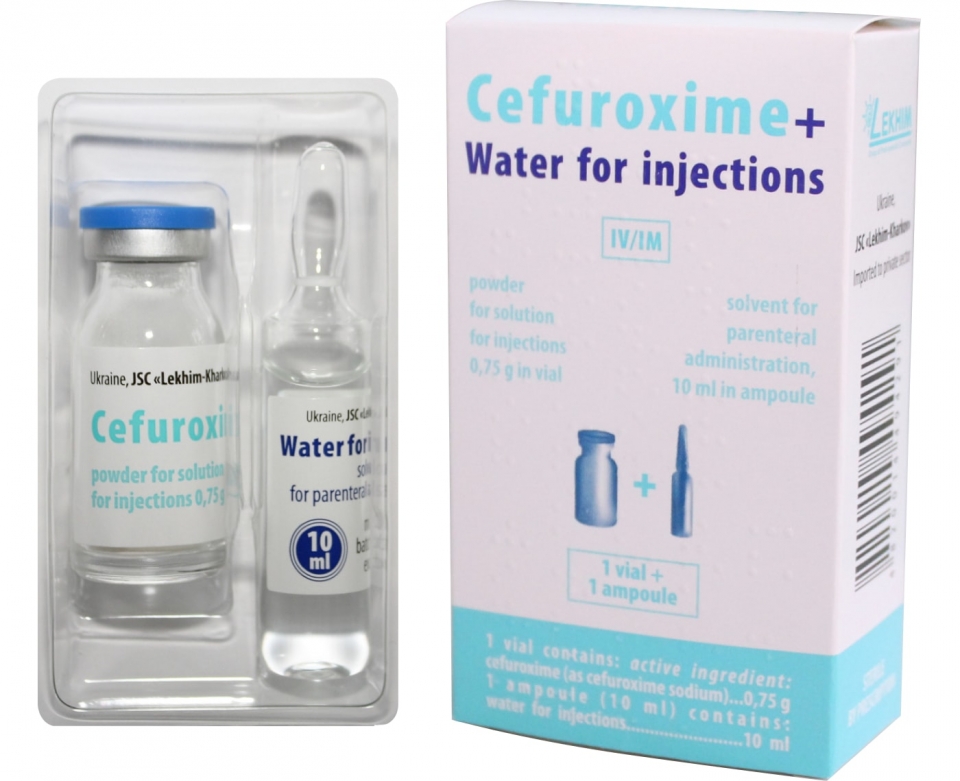 Cefuroxime + Water for injection
Dosage form
Powder for solution for injections
Marketing authorisation no.
UA/15365/01/01
Pharmacotherapeutic group
Antibacterials for systemic use. Second-generation cephalosporins.
Indications
Treatment of infections caused by cefuroxime sensitive bacteria, or treatment of infections before the infecting organism has been identified. Respiratory tract infections: acute and chronic bronchitis, infected bronchiectasis, bacterial pneumonia, lung abscess and post-operative chest infections; Ear, nose and throat infections: sinusitis, tonsillitis, pharyngitis; Urinary tract infections: acute and chronic pyelonephritis, cystitis and asymptomatic bacteriuria; Soft-tissue infections: cellulitis, erysipelas and wound infections; Bone and joint infections: osteomyelitis and septic arthritis; Obstetric and gynaecological infections: pelvic inflammatory diseases; Gonorrhoea particularly when penicillin is unsuitable. Other infections including septicaemia and meningitis. Prophylaxis against post-operative chest, abdominal, pelvic infections, after vascular, cardiac and orthopaedic infection. Usually Cefuroxime will be effective alone, but when appropriate it may be used in combination with an aminoglycoside antibiotic, or in conjunction with metronidazole (orally or by suppository or injection). In situations where mixed aerobic and anaerobic infections are encountered or suspected (e.g. peritonitis, aspiration pneumonia, abscesses in the lung, pelvis and brain), or are likely to occur (e.g. in association with colorectal or gynaecological surgery) it is appropriate to administer Cefuroxime in combination with metronidazole. Where appropriate cefuroxime is effective when used prior to oral therapy with cefuroxime axetil in the treatment of pneumonia and acute exacerbations of chronic bronchitis.
Contraindications
Hypersensitivity to cefuroxime. Hypersensitivity to cephalosporin antibiotics. A history of severe hypersensitivity (e.g. anaphylactic reactions) to other beta-lactam antibiotics (penicillins, monobactams and carbapenems).
Pharmaceutical characteristics
Basic physical and chemical properties
A white to off-white powder.
Storage conditions
Store in original package at temperature not exceeding 25 °С. Keep out of reach of children. The reconstituted solution should be stored at 2-8 °C for no longer than 48 hours if refrigerated and for five hours if kept below 25 °C.
Manufacturer
JSC "Lekhim-Kharkiv".
Location
36, Severyna Pototskoho St., 61115 Kharkiv, Ukraine.