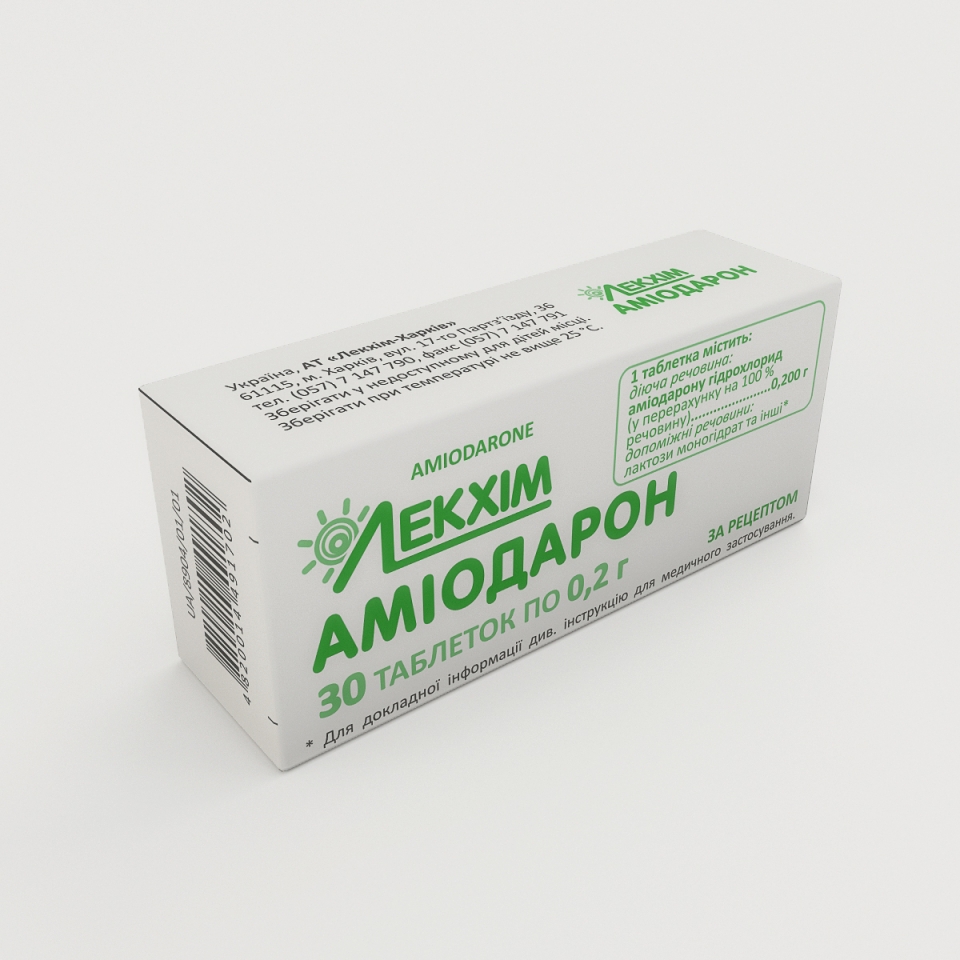 Лекарственная форма
Tablets
Регистрационное удостоверение №
UA/8904/01/01
Фармакотерапевтическая группа
Antiarrhythmic drugs of class III. Amiodarone.
Показания
Prevention of relapses of:
life-threatening ventricular tachycardia: treatment should be started in the hospital with continuous patient monitoring;
symptomatic ventricular tachycardia (documented), which leads to disability;
supraventricular tachycardia (documented) that requires treatment, and in those cases where other drugs have no therapeutic effect or are contraindicated;
ventricular fibrillation.
Treatment of supraventricular tachycardia: slowing or reduction in atrial fibrillation or flutter.
Coronary heart disease and / or left ventricular dysfunction.
Противопоказания
Sinus bradycardia, sinoatrial heart block in the absence of an endocardial pacemaker (artificial pacemaker). Syndrome of weakness of the sinus node in the absence of an endocardial pacemaker (risk of stopping the sinus node). Disorders of high-grade atrioventricular conduction in the absence of an endocardial pacemaker. Thyroid dysfunction. Known hypersensitivity to iodine, amiodarone or to any component of the drug. Combination with drugs that can cause a paroxysmal ventricular tachycardia of the torsade de pointes type: antiarrhythmic drugs of class l (quinidine, hydroquinidine, disopyramide); antiarrhythmic drugs of the third class (sotalol, dofetilide, ibutilide); Other medicines such as arsenic compounds, bepridil, cisapride, difemanyl, dolasatron (intravenously), erythromycin (intravenously), misolastine, vincamine (intravenously), moxifloxacin, spiramycin (intravenously), toremifene, some antipsychotics (see "Interaction with other drugs and other types of interactions ").
Pharmaceutical characteristics
Основные физико-химические свойства
Tablets of white or almost white color, flat-face bevel and bisect.
Условия хранения
Keep out of reach of children at temperature not exceeding 25 °С.
Производитель
PJSC "Lekhim-Kharkiv".
Местонахождение
36, Severyna Pototskoho St., 61115 Kharkiv, Ukraine.