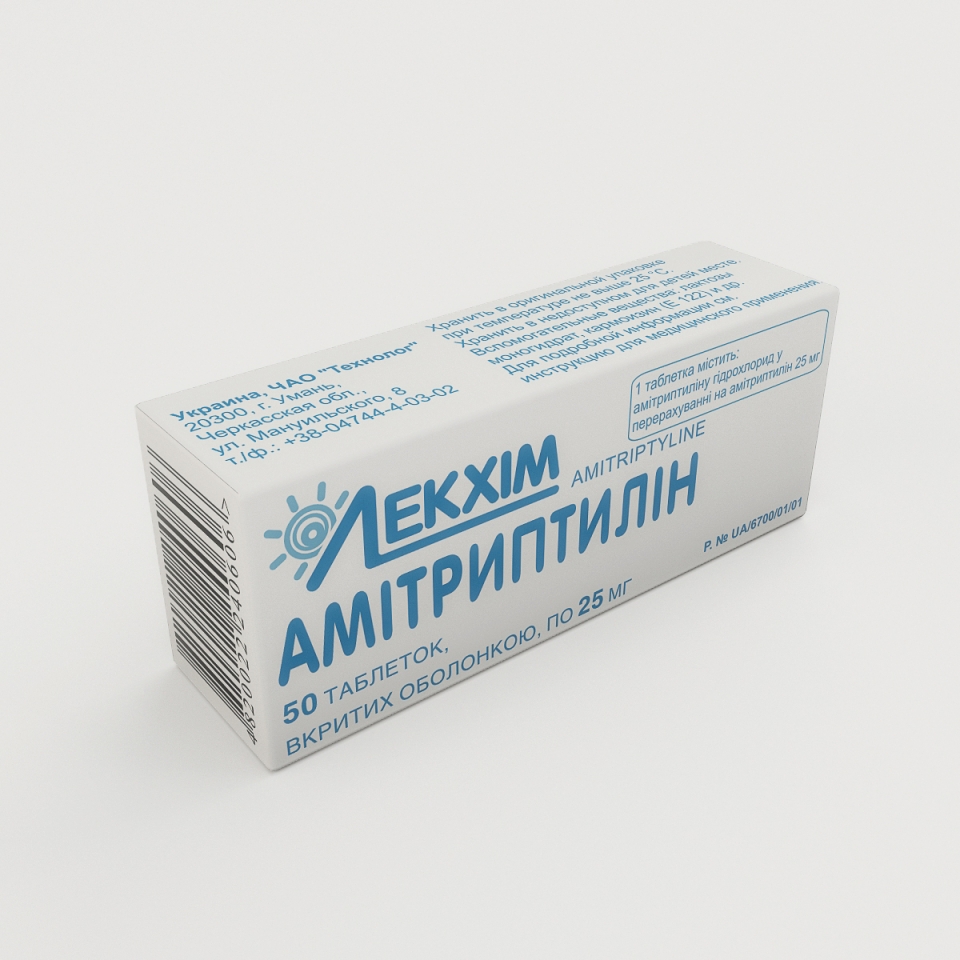 Лекарственная форма
Film-coated tablets
Регистрационное удостоверение №
UA/6700/01/01
Фармакотерапевтическая группа
Psychoanaleptics. Antidepressants. Non-selective inhibitors of reverse neuronal capture of monoamines. Amitriptyline.
Показания
Severe depression, particularly with the characteristics of anxiety, arousal and sleep disorder.
Depressive states in schizophrenic patients in combination with a neuroleptic drug for the prevention of exacerbations of hallucinations and paranoid delusions.
Chronic pain syndrome.
Nocturnal enuresis in the absence of organic pathology.
Противопоказания
Hypersensitivity to amitriptyline or to any component of the drug.
Simultaneous treatment with MAOIs (monoamine oxidase inhibitors), or use within two weeks after discontinuation of treatment MAOIs. Treatment with MAOIs can begin 14 days after discontinuation of amitriptyline.
Glaucoma.
Paralytic ileus.
Epilepsy.
Pyloric stenosis.
atony bladder.
decompensated heart failure, ischemic heart disease (IHD).
recent myocardial infarction.
Any kind of block or cardiac arrhythmias.
paroxysmal tachycardia.
Relative contraindication is prostatic hypertrophy in violation of urodynamics, peptic ulcer and duodenal ulcer.
Pharmaceutical characteristics
Основные физико-химические свойства
Round, coated biconvex tablets, from light pink to pink color. At fracture when viewed under a magnifying glass a nucleous is visible surrounded by a continuous layer.
Условия хранения
Keep in original packaging at temperature not exceeding 25 °C.
Keep out of reach of children.
Производитель
PJSC «Technolog».
Местонахождение
8, Stara Prorizna st., Uman 20300 Cherkasy region, Ukraine.