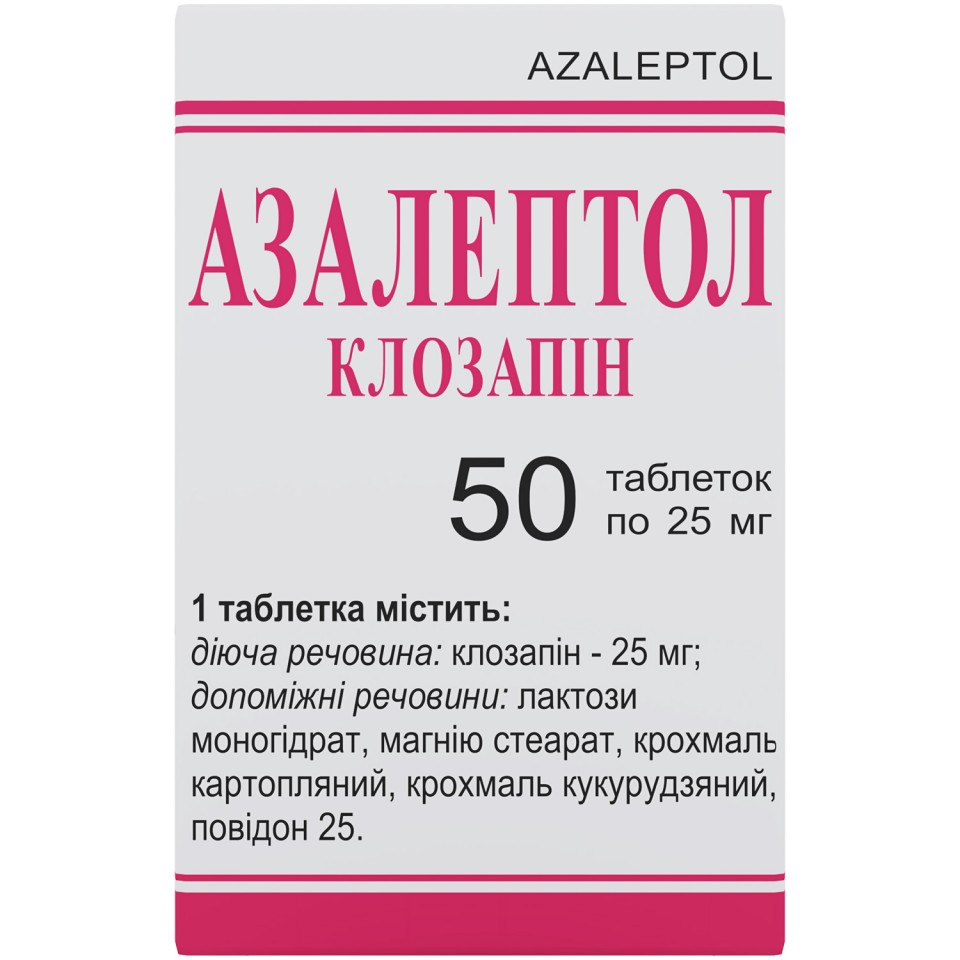 Pharmacotherapeutic group
Pharmaceutical form
Tablets
Registration certificate
UA/6059/01/01
Pharmacotherapeutic group
Therapeutic indications
Therapy resistant schizophrenia
Azaleptol should be administered only in those patients with schizophrenia who are resistant to therapy or tolerate to standard neuroleptics accordance with the following definitions.
Resistance to standard neuroleptics - is a condition where previous treatment with conventional antipsychotic drugs at the appropriate dosage did not lead to adequate clinical improvement for a sufficient period of time
The intolerance to standard neuroleptics - is a condition where there are heavy unmanageable side effects of neurological character (extrapyramidal symptoms and tardive dyskinesia) that inhibit effective neuroleptic therapy with standard neuroleptics .
The risk of recurrent suicidal attempts
Azaleptol shown to reduce long-term risk of recurrence of suicidal behavior in patients with schizophrenia or schizoaffective disorder who are assessed with respect to this risk based on their medical history and current clinical picture.
Psychotic disorders during therapy of Parkinson's Disease
Azaleptol is indicated for the treatment of psychotic disorders, developing during Parkinson's disease, if standard therapy is proved ineffective.
The ineffectiveness of standard therapy is defined as the lack of control over the psychotic symptoms and / or the emergence of functionally unacceptable increased severity of motor symptoms after taking the following measures:
cancellation of anticholinergic drugs, including tricyclic antidepressants;
an attempt to reduce the dose of dopaminergic antiparkinsonian drugs.
Contraindications
Hypersensitivity to clozapine or to any other component of the product;
inability to monitor blood parameters of the patient regularly;
previous history of toxic or idiosyncratic granulocytopenia / agranulocytosis (with the exception of granulocytopenia or agranulocytosis as a result of the prior chemotherapy, treatment);
a history of agranulocytosis induced by clozapine;
impaired bone marrow function;
uncontrolled epilepsy;
alcohol or other toxic psychoses, drug intoxication, coma;
circulatory collapse and / or CNS depression of any etiology;
severe disorders of the kidneys or the heart (eg myocarditis);
acute liver disease, accompanied by nausea, anorexia or jaundice; progressive liver disease, hepatic failure;
paralytic ileus;
Azaleptol should not be administered concurrently with drugs that are known to cause the appearance of agranulocytosis; It should also not be used concurrently with depo-neuroleptics.
Pharmaceutical characteristics
Main physicochemical properties
25 mg - single layer round tablets flat top and bottom surfaces with beveled edges, of light yellow or light yellow with a greenish tone color. On the surface of the tablets mottling is allowed. At the fracture when viewed under a magnifying glass relatively homogeneous structure is visible.
Storage
Keep in original packaging at temperature not exceeding 25 °С.
Keep out of reach of children.
Manufacturer
PJSC «Technolog».
Location
8, Stara Prorizna st., Uman 20300 Cherkasy region, Ukraine.