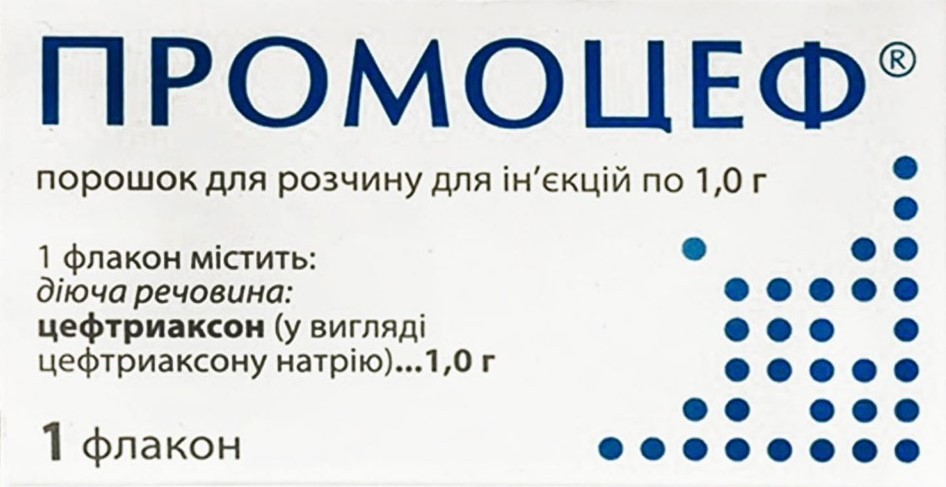 Лекарственная форма
Powder for solution for injections
Регистрационное удостоверение №
UA/15379/01/01
Фармакотерапевтическая группа
Antibacterial agents for systemic use. Other beta-lactam antibiotics. III generation cephalosporins. Ceftriaxone.
Показания
Ceftriaxone is used to treat infections that are susceptible to ceftriaxone:
respiratory tract infections, especially pneumonia, as well as infections of the ear, nose and throat;
infections of the abdominal organs (peritonitis, infections of the biliary tract and the gastrointestinal tract);
infections of the kidneys and urinary tract;
genital infections, including gonorrhea;
sepsis;
infections of bones, joints, soft tissues, skin, and also wound infections;
infections in patients with weakened immunity;
meningitis;
disseminated Lyme borreliosis (stages II and III).
Perioperative prophylaxis of infections during surgical interventions on the organs of the gastrointestinal tract, biliary tract, urinary tract and gynecological procedures, but only in cases of potential or known contamination.
When prescribing ceftriaxone, it is necessary to adhere to official recommendations on antibiotic therapy and, in particular, recommendations on the prevention of antibiotic resistance.
Противопоказания
Hypersensitivity to Ceftriaxone or any other Cefalosporin. Previous hystory of severe hypersensitivity reactions (such as anaphylactic reactions) to any type of betalactam antibacterial agents (penicillins, monobactams, or cephalosporins).
Ceftriaxone is contraindicated:
In premature newborns aged ≤ 41 weeks with consideration of fetal growth (gestational age + age after birth);
In full-term newborns (aged ≤ 28 days):
– with hyperbilirubinemia, jaundice, hypoalbuminemia or acidosis as at such states the bilirubin binding is probably broken;
– who require (or expected to require) intravenous injection of calcium preparations or calcium containing infusions as the risk of formation of precipitates of calcium salt of Ceftriaxon exists.
Pharmaceutical characteristics
Основные физико-химические свойства
Crystalline powder almost white or yellowish.
Условия хранения
Keep out of the reach of children in the original packaging at a temperature not exceeding 25 °C.
Производитель
PJSC "Lekhim-Kharkiv".
Местонахождение
36, Severyna Pototskoho St., 61115 Kharkiv, Ukraine.